SHOP ANTI-AGING MUST-HAVES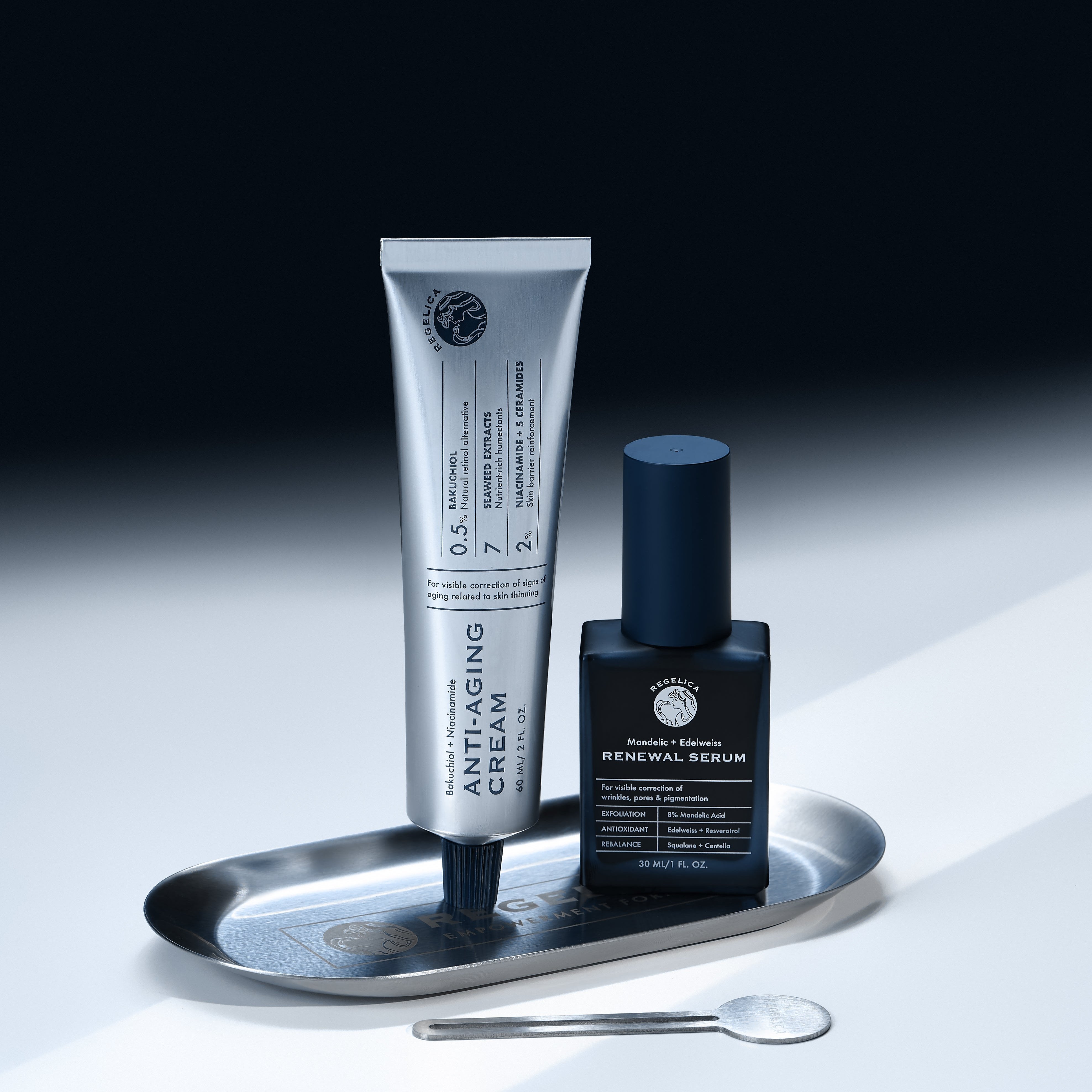 Sale
Anti-Aging Skincare Set (with a beauty tray)
Empowerment Formula: Keep The Good, Lose The Bad
YES TO::

+ MULTI-FUNCTIONAL BLEND OF INGREDIENTS
+ SOLUTION-ORIENTED CONCENTRATIONS
+ KOREAN BEAUTY INNOVATIONS
+ POTENT YET GENTLE FORMULAS
+ SUSTAINABLE PACKAGING
NO TO:

- ANIMAL TESTING
- PARABENS
- MINERAL OIL
- SLS
- SYNTHETIC DYES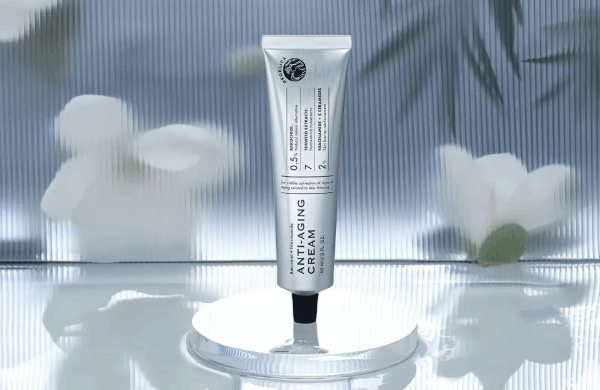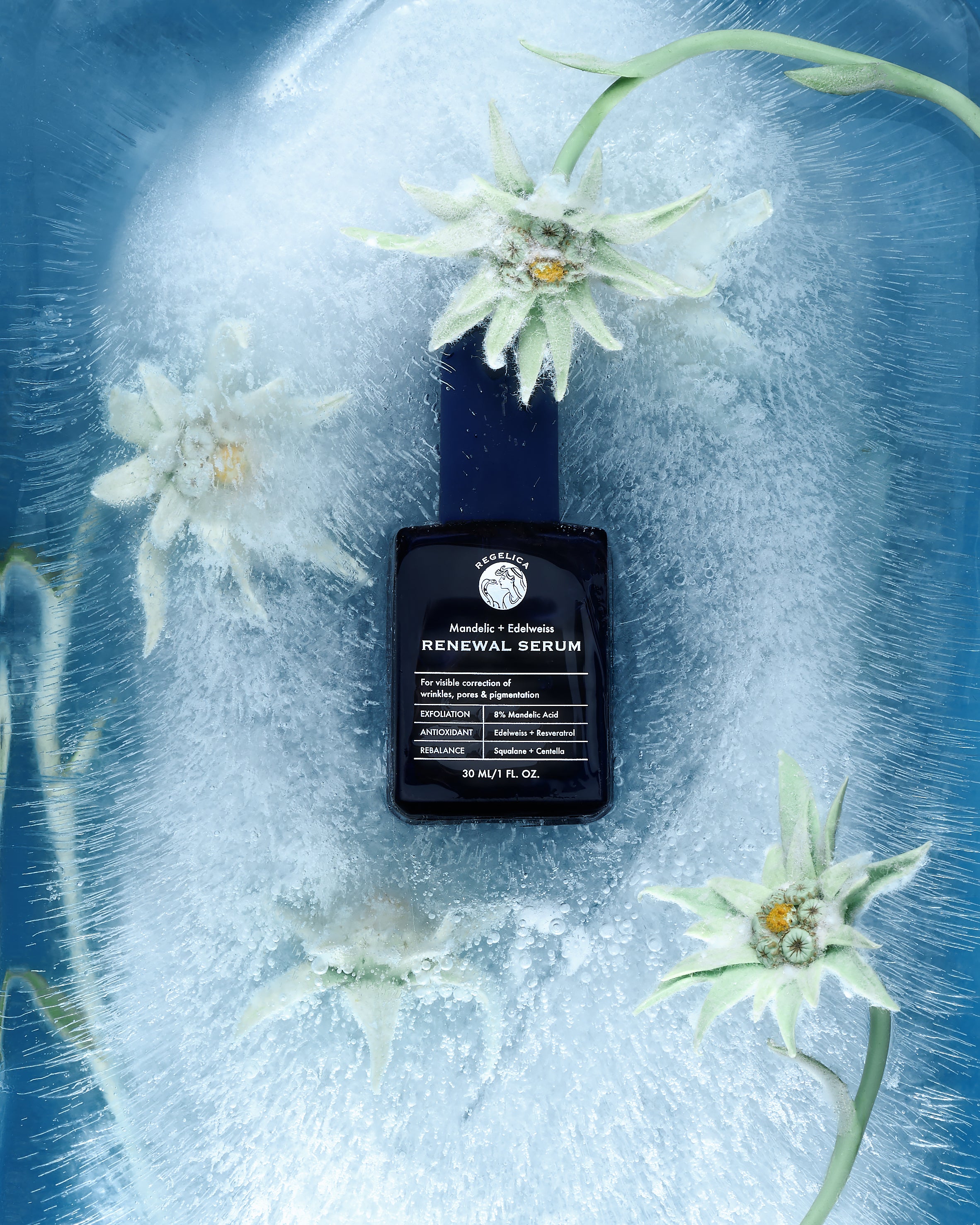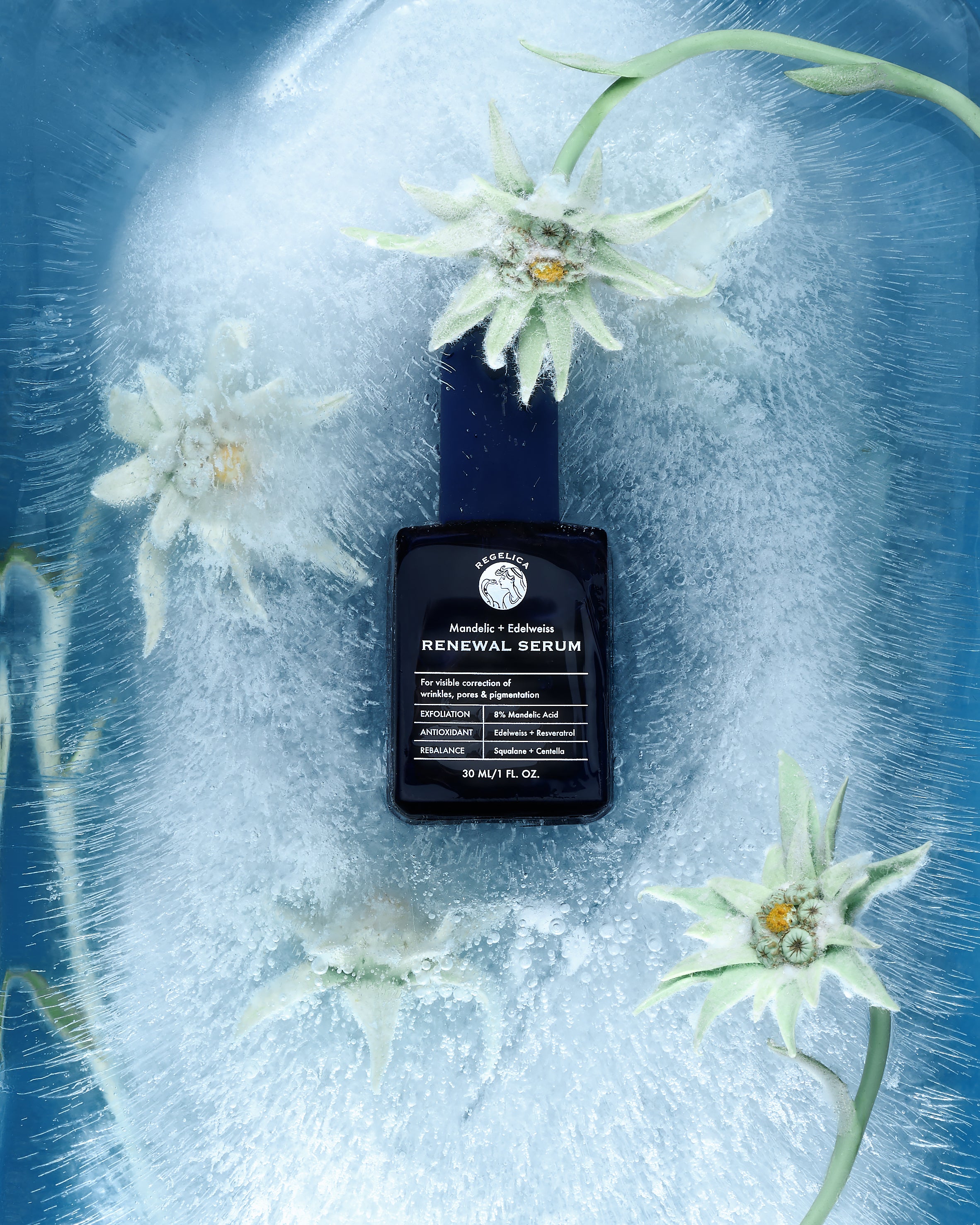 Made in KOREA. Made for ALL.
We have spent over three years researching and developing our formulas, and we believe:
The research behind thicker skin morphologies can benefit all skin structures, types, and tones.
Korea is at the forefront of skincare innovation and technology.
Skincare science has evolved. You don't need to compromise your skin barrier to get anti-aging results.
Our Story
Regelica is the brainchild of two friends with a shared passion for great skincare, but very different skin.

Elisa, whose roots are Asian, was blessed with a naturally thicker dermis and abundant collagen. Despite her inherently youthful look, her skin had a weaker barrier and craved hydration. Eastern European-born Regina, although 15 years younger than Elisa, had delicate, thinner skin that was aging much more rapidly. Together, the two decided to delve into the science behind these differences to create a skincare brand that would benefit all skin morphologies, tones and genders.

Regelica products are designed to visibly boost skin density and preserve the integrity of the skin barrier without the use of harsh actives. Using bakuchiol and other powerful yet gentle botanicals, they address the needs of both thicker and thinner skin types.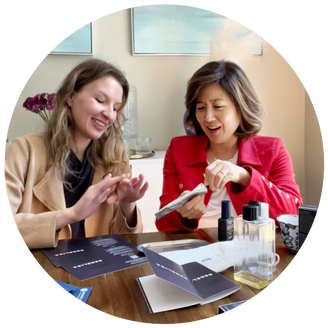 Let customers speak for us
Love it!
Have been using this serum for just a few days and I'm really impressed by the results! I have large pores and combined skin and I'm seeing an immediate improvement! Pores are noticeably smaller and I love putting it on my skin before I put foundation because it works better than any primer
Long lasting moisturizer
This cream lasts forever. Many moisturizers come in a jar, and they run out quickly for me. I have been using Regelica anti-aging cream for 3 months now, and I still have 1/3 of it left. It absorbs into my skin very well with no irritation.
No irritation at all
Love this Regelica Renewal serum! I use it on the daily & makes me skin feel gorgeous. I use it between toner and moisturizer. I can see an instant glow. More importantly, there's no irritation. This type of active serum gets me irritation, but this one doesn't. Fantastic serum.
Best anti aging set ever!
Love this set as I don't have to use many other products with it. This set leaves my skin hydrated, glowing, smooth, and beautiful. This is a great combo and I love it.
Safe for pregnant and breastfeeding mom
Saw a tiktok video about a pregrant woman using Regelica cream. As a pregrant, mom-to-be, I became cautious of skincare products that I put on my skin. This cream is perfect for my pregnancy, and I will probably continue to use it post pregnancy as it's safe for a breast feeding mom.
Retinol alternative
I had to throw away a couple of antiaging creams with retinol in them as I had bad breakouts and my skin got worse as I was waiting to get my skin used to it. I read an article about bakuchiol as an retinol alternative, and voila, this cream doesn't get me any irritation and I am loving it so far.
Improvement on my pores and hyperpigmentation
I have pretty good skin overall, but I have large pores on my chics and hyperpigmentation under my eye are. I can totally see improvement on my pores and hyperpigmentation after using the seum for about 3 weeks.
Perfect for dry seasons
My skin gets so dry under heaters from home and work, and this cream moisturizes my skin so well. I use a toner, eye cream, Regelica serum and cream in the morning and night. This set is perfect for the dry season.
Good for sensitive skin. Great exfoliation
I have only used non-irritating skincare products because I have sensitive skin as I didn't want my skin to break out. Many non-irritating products that I purchased didn't really have strong actives. However, this serum is different as it contains powerful active ingredients and didn't cause me any irritation. I haven't gotten any irritation and my skin has already become cleaner and smoother. I highly recommend this product to people with sensitive skin
The power of Regelica : clear skin and confidence
Regelica's products have worked wonders on my skin. They are not only some of the best anti-aging skincare products I've tried but also among the most effective for treating acne. I've battled acne and hyperpigmentation for years, and I believe I've finally found a solution to all my problems !
The Mandelic acid + Edelweiss serum is not irritating at all. It has faded and healed my acne scars like no other product could (there's a noticeable difference in just a week and a half, as seen in the two pictures). Additionally, the Bakuchiol + Niacinamide cream has lifted and evened out my skin tone.
Overall, using Regelica skincare is a delightful experience. Their products are a pleasure for the eyes, as they come in sophisticated and luxurious packaging, are pleasant to the touch, and have a captivating scent that invites you to take a moment to relax. Using them makes me feel special !
It's worth the money
I usually buy cheaper serums and have used Ordinary serum. I wanted to give it a try with a bit pricey serum and it's really worth it. The whole experience from the package design, scent, texture of the serum, and effects is worth the amount that I paid.
Serum is great and the bottle is beautiful
I have never tried a serum with Mandelic acid, but this serum is beyond my expectation. It made my skin very smooth so I guess the exfoliation worked. I love the glass bottle with sophisticated navy color. A very nice product to highly recommend.
A great gift set
I bought a set as I wanted to try both serum and cream. The set came with a tray and it's perfect to use for my jewelry. My skin has gotten better since I used this set, and I will definitely buy this set for my friends for holidays.
One of the best creams
I have been using this cream for three months now and I can't be happier. I put this cream day and night on my face, neck, and hands, and my skin has gotten smoother with moist. The best thing is that I use this as my eye cream and there's no irritation and the wrinkles around my eyes are gone. Best cream ever.
Fantastic cream
Regelica cream truly works for my skin as I have extremely dry skin, and none of the other creams worked as this one. Strongly recommend for fall and winter season!
Let's get social @regelica_skincare